Gierałta Palace Complex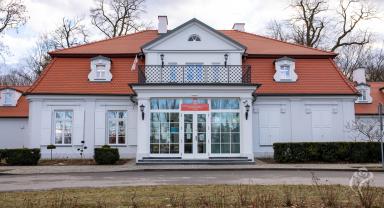 The palace was built in the years 1781–1785 by Stanisław Kostka Gadomski, the owner of Kutno, and then it was rebuilt by subsequent owners. The original layout of the palace complex referred to Palladian and Baroque-Classicist designs. The architectural design of the interiors and the front elevation has the features of early Classicism. Wooden paneling and a fireplace have survived in the living room. In one of the windows there are remains of the old stained glass with genre scenes symbolizing the seasons of the year.
On the sides of the palace, on the longitudinal axis, there are two free-standing multi-storey pavilions with hipped roofs. To the corners of the main building, quarter-circular arcaded galleries were added, which were pulled down by the Germans in 1941. At that time, a hollow square was created from the northern part, surrounded by a stone wall, on which the Hitler Youth rallies were held. Behind the palace there was an English-style garden layout with a regular plan.
The palace was visited by, among others: Napoleon Bonaparte, Tsar Alexander I, Frederick Augustus - King of Saxony, Henryk Sienkiewicz, Charles de Gaulle.
In 2019, the comprehensive revitalization of the Gierałta palace complex was completed
Author: Dr. J. Saramonowicz