The Railway Station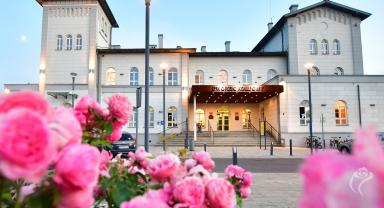 The railway station building was put into use in 1862 simultaneously with the completion of the Warsaw-Bydgoszcz railway line. It was shaped in the form of historicism, referring to a Renaissance Italian villa with the features of a palace. There are also visible elements of the Romanesque style in triforiums. The station, together with other buildings, formed a whole complex of railway buildings - a railway town.
In the interwar period, Kutno received railway connections with Płock, Poznań and Łódź, becoming one of the largest railway junctions in Poland.
The facility has witnessed many historical events. In November 1918, while disarming the Germans at the railway station, Wojciech Rychtelski, a member of the POW, was fatally wounded. In 1921, Marshal Józef Piłsudski was greeted at the railway station. During the defensive war of 1939, from the first days of September, the area of ​​the railway station was heavily bombed by the German air force, but the station was not destroyed.
In 2012, after a major renovation, it was restored.
Author: Dr. J. Saramonowicz