Troczewski's villa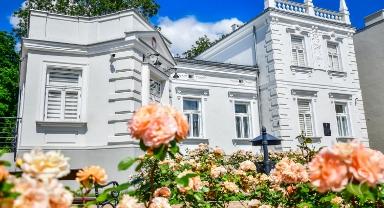 The building from 1897, erected according to the design of the famous architect from Łódź, Kazimierz Stebelski, on an irregular plan, multi-storey, with neo-Renaissance decorations. Originally, there was an Art Nouveau garden at the back of the building, closed after World War II. In the years 1910–1920 the owner of the building was Dr. Antoni Troczewski with his wife Lubomira.
In the interwar period, the "Troczewski's house" was the seat of organizations and institutions related to the national camp: the People's and National Union, the editorial office of Tygodnik Kutnowski and the Polska Macierz Szkolna. Political meetings of the National Democracy were held in the building, whose leader in Kutno until 1928 was A. Troczewski.
After World War II, it was the seat of an anti-tuberculosis clinic, and now it houses the Registry Office.
dr J. Saramonowicz